Greetings from the Regional Coordinator!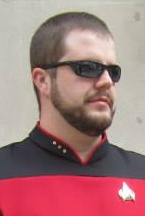 Welcome to Region Two of STARFLEET International - home of the 2006 Chapter of the Year and 2005, 2006, 2007, 2009, and 2014 Commanding Officer of the Year.
Region Two covers the south eastern corner of the United States; from the banks of the Mississippi to the Florida Everglades to the hot deep south of Alabama to the cool breezes on the Georgia coast bringing together the best of Trek fans to be found anywhere.
Chapters in Region Two are all vital clubs active in their communities, publishing some of the best newsletters and websites and are always getting together for conventions, cookouts, summit, and any other reason for a good party.
Take a look around our website and get to know us. I think you see why we call ourselves:
Region Two - Second to NONE!
   To view previous reports click Here. 
Event Calendar
Photo Gallery
No Images
Region Two Current Events
Secondfleet Facebook
Join members and friends of the USS Republic at th...

Join members and friends of the USS Republic at the Hudson Grille in Tucker this coming Sunday for the long-awaited series premiere of STAR TREK: DISCOVERY! We have reserved one room in the back of the restaurant where there are three large wall-mounted flatscreen TVs that management will tune into CBS and crank up the volume for us so we can watch the brand new series together. When it's over, we'll hang around and talk about the premiere and try to figure whether or not we like it!

The Hudson Grille in Tucker purchased a half-page ad in this year's Treklanta program book, hosted our most recent dinner meeting in July and is looking forward to our return this coming weekend. The room they've reserved for us will seat 20 people as is, but additional seating can be brought in. For this reason, PLEASE RSVP if you're planning to attend so we can make sure we have enough seating for everyone. Please click either "Going" or "Not Going," as clicking "Interested" doesn't really mean anything and just confuses us. ALSO: If you're not planning to attend, that's okay, and it's really not necessary for you to explain why in the comments below. Thank you!

Please arrive around 7:30 so we can get seated, order food, be served and get ready for the premiere at 8:30 p.m. Star Trek attire encouraged but not required. Your USS Republic t-shirt or sport shirt would be perfect!

USS REPUBLIC
BOLDLY GOING • BOLDLY DOING

Join the USS Republic for our Twelfth Annual STARF...

Join the USS Republic for our Twelfth Annual STARFLEET Bowling Challenge! This year, we challenge the members of the USS Appalachia, the newest STARFLEET chapter in Region 2, to a two-game bowl-off to determine the Region's best players!

The game fee is $20.00 per person for two hours of bowling and includes shoe rental. There is no discount for bringing your own shoes. CASH ONLY, PLEASE, and please pay the Republic, who has already paid for the lane rental. We have rented two lanes for two hours which accommodate up to six players each. Please RSVP if you plan to attend so we can add lanes if necessary. Please arrive no later than 6:30 p.m. to pay for play, get your shoes and choose your ball. First ball rolls promptly at 7:00 p.m., so please arrive early and be ready to roll (literally) at 7:00 p.m. Midtown Bowl's food grill offers a broad range of menu items and adult beverages are available at the full-service bar.

Plan to wear your best Star Trek costume or your USS Republic sport shirt or chapter t-shirt for this fun-filled family-friendly event!

Good afternoon. I had the pleasure of meeting many...

Good afternoon. I had the pleasure of meeting many of you at the Region 2 conference earlier this year. For those of you who do not know me, my name is Michael J. Allen, a member of the USS DaVinci in Columbus, Ga. I'm also an independently and traditionally published science fiction & fantasy author with five published novels and more in the pipeline for release in the next several months.

My sixth release is something special because of what happened at the Region 2 conference. Scion 3: Unchained includes a character based upon Bruce Dolan. Well, Unchained is done. Sandy has read it and approved it for release on October 24th 2017. I am building an entire campaign around releasing this book with as big a boost as possible so that I can get this very special novel into as many hands as I can. For that, I'll need a little help, and I'm even offering to foot the bill. If you'd like to learn more, I'd appreciate it if you would please visit:
http://www.deliriousscribbles.com/sfi-unchained-ramp-up/
for all the details.

Thank you all for all the help and support.