Greetings from the Regional Coordinator!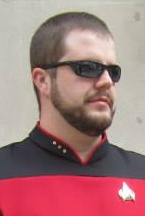 Welcome to Region Two of STARFLEET International - home of the 2006 Chapter of the Year and 2005, 2006, 2007, 2009, and 2014 Commanding Officer of the Year, 2018 to Chapter of the Year (USS Haise) and 2017 CO of the Year Bruce Dolan and 2018 to CO of the Year MarkAdam Miller.
Region Two covers the south eastern corner of the United States; from the banks of the Mississippi to the Florida Everglades to the hot deep south of Alabama to the cool breezes on the Georgia coast bringing together the best of Trek fans to be found anywhere.
Chapters in Region Two are all vital clubs active in their communities, publishing some of the best newsletters and websites and are always getting together for conventions, cookouts, summit, and any other reason for a good party.
Take a look around our website and get to know us. I think you see why we call ourselves:
Region Two - Second to NONE!
Event Calendar
Photo Gallery
No Images
Region Two Current Events